Chashitsu- Japanese Tea Room
Past exhibition
Location: Onishi Gallery, 521 West 26th Street, New York, NY 10001
Exhibition Dates: November 9-19, 2022
Hours: Wed-Sat: 1-5 pm (otherwise by appointment)
-
Tea Ceremony & Lecture: Thursday November 10, 4-5:30 pm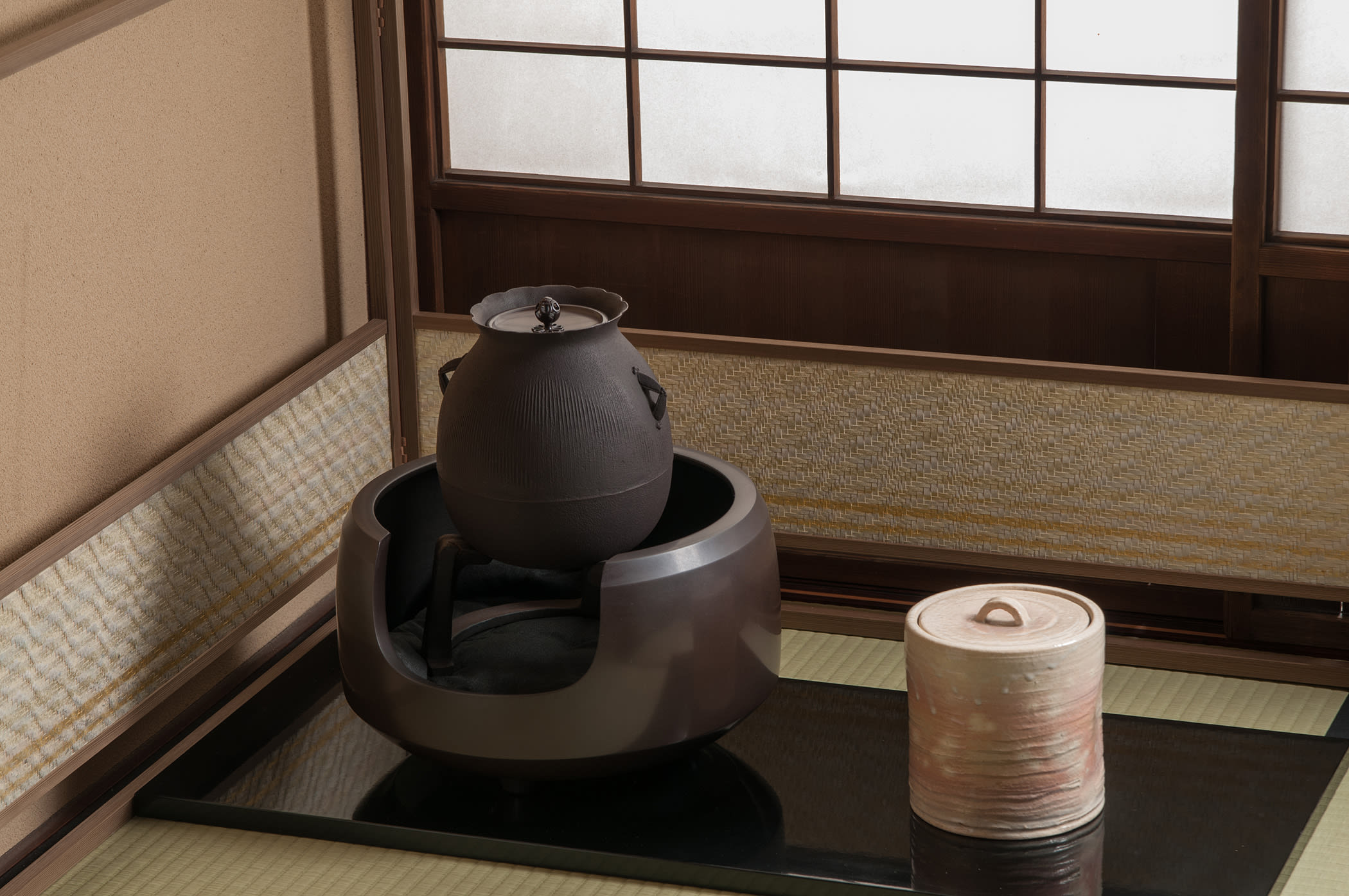 Hata Shunsai III (b. 1976), Tea Kettle with Stripes "Sora" (Sky), 2008.
Onishi Gallery is proud to present "Chashitsu" – Japanese Tea Room –a celebration of Japanese art and culture, tradition intertwining contemporary influence. This unique exhibition focuses on ceramic and metal work pieces specifically used for Japanese Tea Ceremony traditions. This exhibition will be introduced by a live Tea Ceremony and lecture by certified Tea Master Yoshitsugu Nagano on November 10th from 4-5:30 PM at Onishi Gallery (see more on Nagano below). This special demonstration will bring a table-style Tea Ceremony and lecture on how to use and deeply appreciate the charm of tea ceremony related artworks and utensils created by Onishi Gallery artists.
We are honored to bring the Tea Ceremony to your home through the works of our esteemed artists in metal, ceramics and glass: Hata Shunsai III (b. 1976), Sako Ryuhei (b. 1976), Iede Takahiro (b. 1962), Hara Satoshi (b. 1962), Oshiyama Motoko (b. 1957) and Hagino Noriko (b. 1949) working in metal; Ohi Chozaemon Toyasai X (b. 1927) and Ohi Toshio Chozaemon XI (b. 1958), father and son, and Itabashi Hiromi (b. 1948) working in ceramics; and Noda Akiko (b. 1975), working in glass.
METALWORK ARTISTS
Hata Shunsai III, a metal artist from the renowned Toyama prefecture, explores the theme of water through his tetsubin cast-iron kettles and the more formal chagama. Sako Ryuhei creates pieces using mokume-gane, a Japanese metal technique directly translated as "wood-grain metal" dating back to the 17th century. Iede Takahiro, one of Japan's most celebrated contemporary metal artists, takes inspiration from traditional Japanese bamboo basketry, the artist innovating a masterful metal-weaving technique. Pieces by the exhibiting metalwork artists in this exhibition, in collaboration with Onishi Gallery, have become part of the permanent collection of the Metropolitan Museum of Art at its 150-year anniversary.
CERAMIC ARTISTS
Ohi Chozaemon X and Ohi Toshio Chozaemon XI celebrate the Tea Ceremony through their family's extraordinary artistry in ceramics, passed down from generation to generation. After the title passed from father to son, Ohi Toshio Chozaemon XI became the 11th generation head of an important lineage of potters, specializing in tea ceramics since 1666. His sharp forms and nuanced colors have earned international acclaim and his work has been included in the collections of a number of major museums such as Los Angeles County Museum of Art, Everson Museum of Art in Syracuse, Musée Ariana in Geneva, the 21st Century Museum of Contemporary Art, Kanazawa, Japan amongst others. The oeuvre of abstract ceramic artist Itabashi Hiromi is truly wide-ranging, in traditional and modern, black and white, functionality and decorative, heavy and weightless. In this exhibition, abstract sculptural tea bowls are presented and viewers experience Itabashi's art within their palms.
GLASS ARTIST
Noda Akiko, a contemporary glass sculptor from Kyoto awarded the Grand Prize at the 52nd Japan Contemporary Arts and Crafts Exhibition in 2013, is known for her extraordinary artistic creation in glass, sharing with us the Japanese tradition of respect for the moon. Her celestial theme introduces an innovative and romantic dynamic to the virtual tearoom, and we are honored to be sharing her work.
TEA MASTER
Yoshitsugu Nagano is the youngest to be certified in the highest rank of the Ueda Soko school of samurai tea ceremony (USRJWT), which has been practiced in Hiroshima for 400 years and serves as a regular professor of the school. In 2019, he relocated to New York City, where he energetically promotes the spirituality and aesthetics of the Japanese tea ritual rooted in Zen throughout Western audiences.
For more information, please contact Nana Onishi at 212-695-8035, or by email at nana@onishigallery.com. Or, please visit the gallery website at www.onishigallery.com.